Château Luchey-Halde has been reborn: it was once one of the most reputable vineyards in the Mérignac area and has now been totally recreated by Bordeaux Sciences Agro (the National School of Agronomic Sciences). Château Luchey-Halde uses technology and innovation at the service of tradition. Whether it is in the vineyard or the cellars the Château takes advantage of the knowledge and expertise brought by the school.
Château Luchey-Halde prepares and transmits tomorrow's agriculture.
Château Luchey-Halde makes top quality wines that are accessible to everyone. The wines are fine and subtle and will accompany all your happy and shared moments.
Château Luchey-Halde also has a dynamic and passionate team at your service!
Throughout the years
OUR COMMITMENTS
Shortly after the creation of the property, the stakes linked to the development and the sustainability of the biodiversity were put on the focus. This is why, on the first place, we implemented bushes around and in the heart of the vineyard. It accounts for 15 different tree species. The green hedges  are now covering more than 1200 linear meters and offers a shelter for the auxiliary wildlife of the vine. It is also used to limit naturally the spreading of phytosanitary  products in the air.

EMS

Concerned with the continuous amelioration of its environmental performances, the castle is part of  the 1stassociation for the Environmental Managerial System (EMS) of Bordeaux wines, certified by ISO 14001. This engagement allows the castle to reduce its impact on environment thanks to the : sorting out and recycling of trashes, reduction of intrants, reduction of resources consumption (water, electricity), preservation and development of the biodiversity.

Wine Faire Vin'Écoles

That year we enrolled in the Economic Interest Group (IEG) School Club, composed of viticultural high schools. It is in this context that each year we organize the Wine fair "Vin'Ecole", a project entirely managed by some Bordeaux Sciences Agro students. It is a project that is supposed to give insights about the day to day life of a company. Indeed, the student have to organize themselves in different units (sales, marketing, accounting, communication, logistics…).

Make sure that you follow all our social network to keep up with information and dates. More than fifty wines references from all France will be there for you to discover.

Communication with neighbors

As an urban vineyard a walking spot, we implemented a yearly meeting with neighbors and walkers, to speak about general actions and project taken towards the sustainability of the vineyard.
For those who want, a emailing system is available to inform about the schedule of phytosanitary products treatment. For the walkers, a flag system was established at the entrance of the property. It will indicate a possible ongoing  treatment, forbidding the access if necessary. All this information systems allow us to have a viable dialogue with neighbors and walkers.

HVE

Since 2016, the castle is certified by the High Value for Environment (level 3). It follows the focus of the castle to produce in the respect of natural balance. This certification was created by the ministry of agriculture in order to value the farms that seek to meliorate their impact on the environment. It requires results on biodiversity, phytosanitary and fertilization indicators.

Digilab Webiste

Digilab is a numeric innovation laboratory for the wine industry. It offers, to companies and actors of R&D, a network of websites and skills to test, assess and implement all the new numerical technologies for the wine industry.

Thus, since 2018, the Chateau Luchey-Halde has become the major site of Digilab activities : implementation and test of numeric and robotic innovations (vineyard and cellar), organizations of conferences, host of the Vi'TIC fair for innovation… This collaboration is a real asset for the property : exchange with R&D companies, being at the cutting edge of the latest technologies to continue to produce quality wines and anticipate all the technical, economic and environmental issues.

More information about DIGILAB, go on their website https://digilab.agro-bordeaux.fr/

Eco pasture or partnership with the conservatory of Aquitaine breeds

On the 4 hectares of woods and meadow, we are practicing eco pasturing in collaboration with the conservatory of Aquitaine breeds. It allows us to naturally take care about this piece of land while preserving a pastoral area for regional breeds in extinction. In that way we host Landes horses throughout the year.

" Bordeaux Cultivons Demain "

In 2021, the castle received its first "Bordeaux Cultivons Demain" label. It is a CSR (Corporate Social Responsibility) framework adapted to the Bordeaux wine industry. Our actions and project will articulate around 4 big pillars of Bordeaux Cultivons Demain : making a living dialogue, bringing our territory to life, contributing to an attractive industry and preserve the environment.

This engagement naturally completes our environmental actions (HVE and ISO 14001) for a sustainable development. It also follows the strong will of Bordeaux Sciences Agro to make agro ecology the core stake of tomorrow's agriculture.
Château Luchey-Halde is situated in the heart of Bordeaux in the prestigious Pessac-Leognan appellation and benefits from an exceptional terroir.
It is constituted of several ridges which contain gravel, pebbles and fine soil deposited by the Garonne River and its tributaries between the end of the Tertiary and the beginning of the Quatenary periods. It is a poor but well-drained soil perfectly adapted to winegrowing in the oceanic climate of Bordeaux.
Rollover for more information
A VINEYARD IN THE CITY
The vineyard covers 23 hectares with 19 hectares planted with the following red grape varieties: Cabernet Sauvignon (55%), Merlot (35%), Cabernet-Franc (5%) and Petit Verdot (5%). The remaining 4 hectares are planted with white varieties: Sauvignon blanc (37%), Sauvignon gris (18%) and Sémillon (45%).
A very thorough soil analysis carried out by the teacher-researchers at Bordeaux Science Agro has allowed for the optimal planting of grape varieties with their corresponding soil types.
This study also revealed the excellent potential of this terroir and the possibility of producing high quality wines. As a consequence, Bordeaux Science Agro initiated an ambitious planting programme based on high-density planting, soil preparation and respect for the environment. For a given yield, this high-density planting allows fewer bunches of grapes to grow on the vines leading to higher concentrations of juice in the berries. Preparing the soil permits the control of soil flora as well as enabling the vines to extend their roots deeper in search of nourishment.
We produce between 100,000 and 150,000 bottles of red and white wine each year.
Survolez Pour Plus D'Information
UN VIGNOBLE EN CŒUR DE VILLE
UN VIGNOBLE EN CŒUR DE VILLE
Version Mobile –
Le vignoble s'étend sur 23 hectares. Il est composé de 19 hectares de rouge, ayant pour encépagement : Cabernet-Sauvignon (55%), Merlot (35%), Cabernet-Franc (5%) et Petit Verdot (5%), et de 4 hectares de blanc : Sauvignon blanc (37%), Sauvignon gris (18%) et Sémillon (45%). Une étude pédologique extrêmement poussée, réalisée par les enseignants-chercheurs de Bordeaux Sciences Agro, a permis une implantation optimale de ce vignoble grâce à la mise en adéquation des cépages avec les différents types de sols. Cette étude a aussi révélée l'excellent potentiel de ce terroir et la possibilité d'y produire des vins de grande qualité.
Dès lors, Bordeaux Sciences Agro a initié un programme ambitieux d'implantation du vignoble, basé sur une forte densité de plantation, le travail du sol et le respect de l'environnement. Cette forte densité de plantation permet, pour un rendement donné, de faire porter moins de grappes à chaque pied de vigne, afin d'obtenir des baies de raisin plus concentrées. Le travail du sol permet de maitriser la flore du sol, il favorise aussi l'enracinement en profondeur, nécessaire à la bonne alimentation du cep de vigne. Nous produisons chaque année entre 100 000 et 150 000 bouteilles de vins rouges et blancs.
In order to extend the substantial work undertaken in the vineyard, the grapes are harvested by hand and put into small containers.
The red grapes are carefully transported to the grape reception area at the winery, which was built in 2002 for the sake of practicality and innovation. It consists of a circular, semi-buried vatroom which uses gravity to move the grapes to the vats, which are transported whole and then crushed as they fall into the fermenting tanks. This is done to preserve the maximum aromatic potential of the future wine.
The stainless steel tanks allow an optimal vinification process. During this period,under the action of yeasts, the sugar is transformed into alcohol and the colour and tannins needed for optimal ageing are extracted.
After this phase, the wines are aged in barrels for 12 months. Barrel ageing allows the aromatic and tannic range of the wine to be completed and also sets off the maturing process which makes it perfectly ready for tasting at bottling.
The white grapes are also harvested manually and then pressed. The juice thus obtained is cleared of the largest solid parts and transferred straight into barrels where it ferments and then ages for 11 months. During this period the wine is stirred regularly thus enriching the range of tastes.
BORDEAUX SCIENCES AGRO
A SCHOOL OF HIGHER EDUCATION FOR ENGINEERING AND AGRONOMY
Château Luchey-Halde is owned by Bordeaux Sciences Agro, The National School of Agronomic Sciences of Bordeaux-Aquitaine. It is an asset for the estate, which can benefit from a high-level scientific environment. On the other hand, Luchey-Halde provides a hands-on approach to teaching viticulture and oenology to the engineering and master's students. Mainly, Bordeaux Sciences Agro wants this urban vineyard to be a "showcase" of good practices for an economically sustainable and environmentally respectful viticulture. The whole scientific community of Bordeaux Sciences Agro takes part in the "Luchey Agro-ecological project".
For more information: www.agro-bordeaux.fr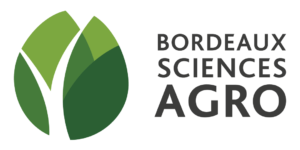 Discover "U", the University of Bordeaux's wine.
In order to underline its affiliation to the University of Bordeaux, Bordeaux Sciences Agro created, in 2010, a special blend for the university community. "U" is the ambassador of Bordeaux wines for French and foreign university and research partners.